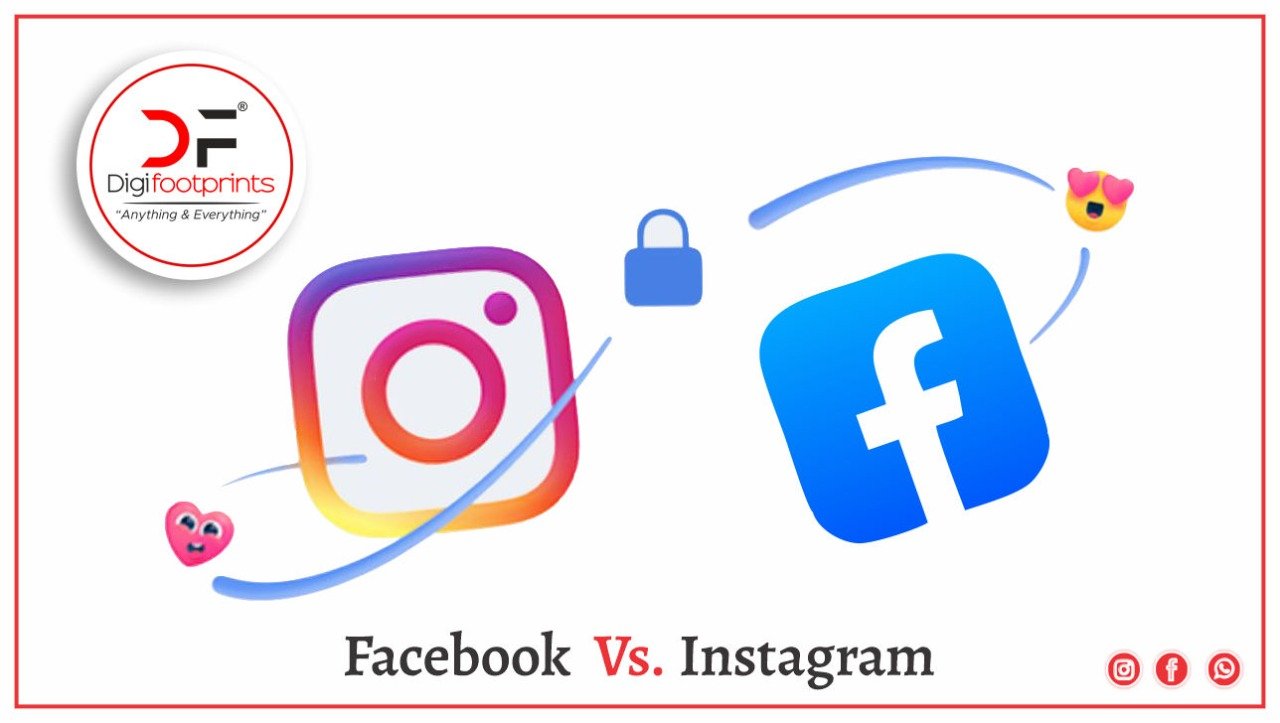 When we are looking at social media marketing, Facebook continues to monopolize the market. Upon reaching June 2019, Facebook has grown to almost 2.4 billion users, making it the best social media platform for a large number of active users.
So, the war is now Facebook v/s Instagram. Over the past decade, Facebook has properly redefined the different manners on how you look at social networks and created infinite possibilities of creating social media for businesses. We make sure that the search engine can find all your ad campaigns.
However, there is a relatively new kid on the block, called Instagram. Instagram has enjoyed large success in growing its user base. Both create a strong social media presence. As of June 2018, Instagram has grown to about 1 billion active users, which positions itself to be a large social media network across the world. With our social media marketing company in Lucknow, it isn't a surprise at all. We are always at a place where the internet world dominates, and people spend a lot of time browsing the internet.
Social Media Marketing is Actually an Effective Marketing Strategy
A lot of internet users also find a lot of new products and brands to buy from social media advertising. We offer a lot of social media marketing services to make sure that we provide top-notch services all the time. There are also some reasons why social media marketing is also effective because these social media platforms also represent advertisements by user-curated preferences. There are also a lot of social media campaigns carrying out content marketing services as well.
One of the main reasons why this social media marketing is effective is because our digital marketing agency can reach out to social media platforms to produce relevant advertisements that are customized to meet different client preferences as well. Photos and videos will make your PPC marketing more effective. With the right content creation, our social media management services will make sure that everything is done perfectly.
How does this actually work?
We offer social media marketing services in Lucknow, and every single time a Facebook or Instagram user actually likes the image or joins the group, or other comments that have been put on that page, the information will get stuck into an algorithm. When the advertisement campaign comes up on social media, the data is stored on an algorithm. However, when there is an advertisement campaign on social media, you should target the users based on the information.
For example, if you wish to see leather motorcycle jackets, you might target people that like Honda or other topics. You have to be more specific about the client's interests, which will make the conversion rate higher and a better ROI.
Social Media Marketing has a type of Expansion Method
Facebook also boasts a lot of different amounts of active users, while Instagram has more than 1 billion monthly users, and it has also grown since 3 years back.
It is more than 1/3 of the earth's population, and a lot of people are using social media marketing services. In other words, unless the target client is a person that cannot read English, or does not have social media in their country, they can still be converted into proper clients. However, do not let massive, large-scale social media scare you off.
You can also narrow the whole scope of different advertisement campaigns by gender or keywords. So, even if you are a local business that creates business within a special zip code, then social media advertisements can also help you to get new clients.
Don't turn everyone into a target – pick the right age, gender, and the right demographics of your target market before you start your advertisement campaign. We offer the best social media marketing strategy to get the right target audiences.
Social Media Marketing is Simple to Use
Actually, anyone can easily create a marketing campaign on Instagram or Facebook in just a couple of minutes. As Facebook bought Instagram back in 2012, advertisement campaigns for different platforms can be created on the Ads Managers page. Proper Facebook advertising and different agency offering will make sure that you get proper PPC clicks.
There is also a "Fast Creation" button if the whole standard setup process feels like a lot of work as well. However, if you are on a limited budget, you should run a successful advertising campaign for more PPC clicks, so you might have to spend extra, but both platforms are allowed to set a cap on how much you spend every day, so you can control how fast your money will run dry. With the right online marketing strategies, everything can come up properly.
However, if the budget allows for the whole thing, you can also benefit when you get a special agency to run the different advertisements for you.
A proper agency will also increase the ROI as well, and they also have the right expertise to make sure that these advertisements are appealing in a visual manner and the target demographic will be able to view these advertisements.
Facebook vs Instagram: Difference between Facebook and Instagram?
Let us look at the main differences between the two different social media profiles. First, let's read about Facebook and Instagram.
As we have mentioned earlier, you can create advertisement campaigns for different platforms on the same location, but that does not mean the business has to be advertising on both platforms. These are the factors that you should decide on how you should spend your budget. Our account managers will also take care of this as well.
Demographics
Age
Age is also a rather important demographic which makes Facebook from Instagram. As these graphs reveal. Facebook is actually older than Instagram.
Although a lot of millennials use different platforms, Instagram's user base decreases after the 18-29-year-old age group. While Facebook also maintains a large user base even under the 65+ age group. Under the age of 18-year-old target market, Instagram is the biggest winner.
Household Income
Facebook users that have spread across the country have good household incomes, so a lot of business owners can also be confident that their target customers are always on the platform. Instagram users also cluster higher on the whole scale, with a large percentage of users being in the $100k + household income segmentation as well.
Different business owners do not just chase households with a high income, however, you should target the different products should reach the target that you are intentionally looking for. However, niche brands should also target households right at the top of the whole market scale, while budget brands should focus on the bottom of the household scale.
Engagement: Facebook Scope Vs. Instagram Volume
Facebook has a larger audience which means if you carry out ad campaigns you can get a better audience. Facebook also offers different methods of interaction, like feed advertisements, other business pages, and chat functions. There is also a broad scope for Facebook as well, and Instagram has more volume engagement as well.
The takeaway, Facebook is good for more visibility for launching different advertisements, while Instagram can reach out to more people.
Get In Touch